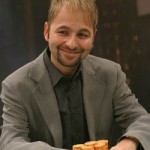 Daniel Negreanu has always been one of the well-liked poker players on the pro circuit. He always makes friends even when he's taking players' money with a smile. But lately, the second best live poker tournament player in history ($12.8 million) has run into some trouble.
First, he has been getting blown out of the water on High Stakes Poker by all of the other well-known pros like Doyle Brunson, Tom Dwan, and Mike Matusow. Yes, that's right, The Mouth has been dominating Negreanu in these high stakes poker games. So what has Kid Poker decided to take his frustrations out on? Sunglasses!
This whole fiasco began on High Stakes Poker when Negreanu started whining about how people who wear sunglasses to conceal tells are basically 'cheating'. And many of the other pros on High Stakes Poker agreed with Negreanu on the subject.
Overly giddy about the fact that the same guys who've been stealing pots off him left and right were in agreement, Negreanu took the subject further by making a blog post about the whole problem. He wrote, "They are so bad for poker on so many levels. Poker wouldn't be on TV if everyone wore hoodies and sunglasses to hide their eyes. If anyone wants to start a petition to ban them in any form of poker whether it's tournaments, cash games, or televised events….I'd do whatever I could to help."
Now Negreanu does have a point about how TV poker would be a lot less interesting if everyone dressed like Phil Laak (which makes me wonder, was he taking a direct shot at Laak). But was his next quote justified when he said, "You should always be uncomfortable playing high stakes poker against someone wearing sunglasses. I'm not making this up, it's just a fact. Banning sunglasses helps to protect the integrity of the game against cheating." I don't agree!