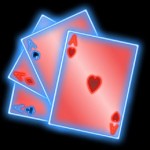 It's almost like every poker site you visit, you see something about selecting cash games. All of the sites are offering tips on locating soft cash games…but what about tournament selection? We have to search through millions of websites in order to find any useful information on tournament selection. Hopefully your search ends here with 3 things you should be looking for in any tournament: field size, tournament structure, and tournament skill level.
Amount of Players
It's easy to see that field size is important in tournament selection. Rather than playing 50 small multi-table tournaments to win $1,000, you should be playing 50 large multi-tables to up your winning profit even more. In other words, play the bigger fields to get a higher return in the end.
The only downside to playing larger tourneys and winning more is that you'll also be waiting more. When it comes down to the perfect field size I say go big or go home, but I'm sure some people just aren't as serious about poker. And there is nothing wrong with sit and go's or the small multi-table tourneys for casual players. However, if you're serious about poker, go for the bigger field sizes.
Tournament Blind Levels
The tournament structure you choose should be based upon your skill level and playing style. It would be good for super-aggressive or beginners to play in tourneys with smaller starting stacks and quick blind levels. These particular tournaments leave less room for conservative skilled players to wait for the perfect opportunity.
Skill Level of Players
It makes no difference what tournament you're playing in because there will be good players. However, some tournaments have a greater or lesser percentage of good players so this is a big factor in tourney selection. The skill level of the tournament is based on the prestige as well as the buy-in so if you are a beginning player, don't go spending $5,200 on a WCOOP seat; instead, stick to sit and go's and small MTT's.