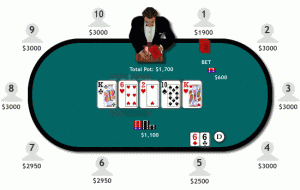 Despite how much poker strategy has advanced in the past few years, there are still some people who subscribe to the adage that slowplaying is a smart move. After all, slowplaying can conceal monster hands and keep opponents guessing as to what you have. On the other hand, slowplaying also prevents you from getting maximum value out of hands since you don't build pots on each street.
To illustrate this point, let's say that you were isolated with an opponent and holding pocket 10′s. The pot is $15, and you are sitting in the button with a $250 stack; your opponent has a $180 stack. The flop comes up 7-10-3, and you choose to slowplay for fear that your opponent will fold on such a bad flop. So when your opponent checks, so do you.
The turn is an ace and your opponent bets $10 to represent having an ace; you simply call. And here is where the major dilemma is created: There is just $35 in the pot and your opponent still has $170 left. Assuming this is No-Limit Hold'em, the goal is to take your opponent's whole stack. And the only way to do this now is to make a $170 over-the-top raise.
99% of the time, this isn't going to work so you've done a horrible job of building the pot and eventually getting your opponent's stack through the slowplay. Sure you may pick up $20 or $30 on the river, but you had this hand all along so why waste the opportunity?
The smart move is value betting every street so the pot is built all along. In addition to this, your opponent's stack will be decimated towards the end thus making them more likely to go all-in on the river. So a $20 value bet on the flop and a $45 bet on the turn are much better moves than slowplaying.