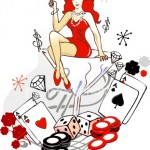 There are lots of people who complain about how their luck is really bad in poker.  They bitch about how they are always the victim of bad beats and they also complain that nothing ever goes their way.  But there has to be something more to the equation for why certain players always seem to be a target for "bad luck".  The truth is maybe they just aren't that good at playing poker and they suffer from bad variance.
For those of you who are unfamiliar with the concept of variance, think of a scatter chart where you want to get your dots as close to the center (winning sessions) as possible.  Some of your dots may be way off base one way or the other while others will be really close to the center.  The key thing to understand here is that the dots represent variance or how consistent (or inconsistent) your performances are.
Applying variance to poker, the really good players will have little variance in their game and be as consistent as possible.  Sure they will suffer from some really bad sessions here and there, but they will have far more good sessions than those who suck at poker.  Contrast this to the terrible players who are always complaining about bad beats and how things never go their way.  The truth is that these people really just aren't that good and this is why they experience so much bad variance.
The better the player you are, the less likely you are to suffer from bad variance.  That's why you never see Daniel Negreanu burying his head in his hands after busting out of a tournament.  He knows that in the end, he's gonna come out on top of other players.  And while you may not be Daniel Negreanu, you can still improve your game and your variance as well.