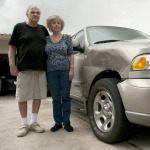 Thomas Gigliotti thought that he and his wife Josephine had a pretty good night after winning $4,000 at the poker tables. The Gigliotti's were cleaning other players out at the Seminole Hard Rock Hotel & Casino in Hollywood, Florida before heading home to Plantation, Florida. Little did they know, some robbers had a plan to clean the Gigliotti's out away from the table.
After arriving home and pulling in their driveway, Thomas and Josephine were shocked to see masked men run up to their car. Before Thomas knew it, one of the gunmen was pointing a pistol straight at him and telling Gigliotti to get out of the car. Thomas Gigliotti stepped out of the car, and was kicked to the ground by one of the robbers. The bandit stole Gigliotti's cell phone, credit cards, and the $4,000 in poker winnings. The robbers even pondered shooting Gigliotti before deciding to leave him alive instead.
But Thomas Gigliotti wasn't exactly feeling relief for his life being spared; he was angry and wanted to chase the criminals down. So he jumped back in his car and started a high speed pursuit through the streets of Plantation (his wife was inside the house at this point luckily).
Gigliotti described the scene by saying, "This chase was one of the greatest chases you've ever seen. They went right, left. They made their mistake when they went on the straightaway." The straightaway is where Gigliotti exacted his revenge as he slammed into the robbers' car causing them to wreck. Gigliotti backed up only to find that the perpetrators had made off with the cash.
While the robbers haven't been caught yet, they did leave behind evidence in the car that could lead to their arrest. Even if they're not caught, the bandits will think twice about robbing anyone else after what the 74 year-old Gigliotti did to them.