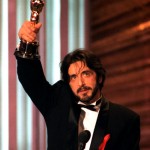 The poker world seems to have a fascination with celebrity figures (probably because they bring news fans to the game). And this fascination has recently hit a peak with Al Pacino and Dr. Jack Kevorkian agreeing to meet each other for a little friendly game of poker.
Now I'll be the first to admit that these aren't exactly A-listers right now – Pacino doesn't know what a hit movie is anymore while Kevorkian lost all mainstream publicity as soon as his trial was over in 1998. However, the pairing of these two people is interesting to say the least since Pacino is one of the greatest actors of our lifetime while Kevorkian is best known for assisting over 100 people in suicide. And putting both of them at the poker table is sure to generate plenty of buzz!
This whole pairing started at the premiere of the HBO film You Don't Know Jack and things continued on when Kevorkian invited Pacino to play poker with him in Michigan. Pacino thought that the game sounded fun and so he accepted the invitation to travel to Detroit.
It's unclear at this point where the two will play poker, what variation of the game they'll play, and how much money they will play for. But one thing is clear at this point: the two will get together in the future to play some poker!
I'm sure with all of the poker news outlets we have these days that we'll know when the game takes place. It's just a matter of when the two famous people make the announcement. At this point, my money is on Kevorkian to win since he's the one who made the invitation…but we'll see.