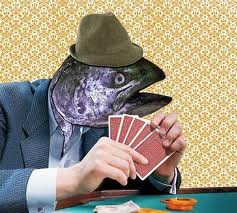 Most poker players like to go with a tight-aggressive strategy because it doesn't invite you to get trapped as much, and you can stick to a better range of cards. But just because you're TAG doesn't mean you're a good player. In fact, there are plenty of TAG fish out there, which is why you don't want to become one yourself.
The first thing you need to realize to avoid becoming a TAG fish is that post-flop play is more important than pre-flop play. Sure pre-flop is a crucial aspect of the game – especially for beginners; however, you can't sit around and obsess about pre-flop when most of your money will be made after the flop. If you constantly get burned with top pair, or mis-fire on double and triple barrels, you need more post-flop work.
Another problem with TAG fish is that they pinpoint an opponent's range of cards, yet they don't consider what the opponent thinks. For instance, you may know that your opponent has AA-JJ on the river, but what range do they have you on? Just considering this one extra aspect can save you a lot of money in poker.
One more thing worth mentioning about TAG fish is that they tend to overvalue their implied odds. For example, some TAG fish will always call with 5-6 in middle position thinking that they're going to get paid off every time. Unfortunately, most decent players are going to realize when you've suddenly switched from being a calling station to making huge value bets with a straight possibility on the board.
In the end, a TAG fish is somebody who tries to compensate for a lack of effort put into bettering their game by using a tight-aggressive strategy. But as with any strategy, you have to continually improve your game in every aspect before it works.