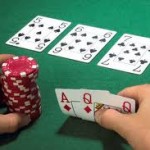 If you look at the game of poker today as compared to five years ago, you'll notice that there are a lot more continuation bets. This isn't exactly a good thing either since the reason there are more c-bets is because the average player has no idea as to when the best time to make a continuation bet is. So I'd like to go over a few times when you want to avoid making continuation bets.
The number one time when you should avoid c-betting is when there is more than one opponent in the hand. The obvious reason why you want to avoid continuation bets in this situation is because more players in the pot means more chances that somebody will catch something good on the flop.
Moving away from the obvious, another time when you should avoid c-betting is against calling stations. Now this is something that you'll only know after having enough time to observe everybody at the table. However, if you know somebody is a calling station, it's foolish to try and c-bet them because most continuation bets aren't big enough to scare calling stations anyways.
One more time when you should avoid c-bets is if you're trying to out-bet an aggressive player. In fact, c-betting an extremely aggressive player could result in a re-raise, which means you won't even get to see the turn. And this is the absolute worst case scenario when it comes to continuation betting.
Of course, anytime you make a c-bet and don't make your opponent fold can be considered a bad scenario. And the best way to avoid these bad situations is by making continuation bets at the proper time. Also keep in mind that you should only bet 2/3 to 3/4 of the pot on c-bets to avoid risking too much money.