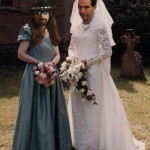 Chris "Jesus" Ferguson has done just about everything that a person could do in the game of poker. He's won the WSOP Main Event (2000), he has earned over $7,800,000 in live tournament winnings, and he is one of the poster boys for Full Tilt Poker. But you don't get to the top of the poker world by being complacent and Ferguson knows this. In fact, his ambition has recently led him out of poker and into movie making.
The whole thing started when movie producer Robin Schorr approached Ferguson about becoming an investor in her company. Ferguson wasn't willing at first, but a year and a half later, Chris is all ears about investing his money. In fact, Ferguson and his business partner Ray Bitar are going to put the large sum of $5-$10 million into this movie making project.
Of course, it's a little more than a project since Schorr has produced "The Prince and Me" as well as "Food Inc."; Food Inc. was nominated for an Academy Award. With credits such as these to Schorr's name, Ferguson thinks this will be a wise investment. And since Ferguson is an investor in RCR Pictures, people have already been quick to jump the gun by wondering if a poker movie is first on the agenda.
Unfortunately, poker fans will have to wait since it looks like the first movie on Schorr's list will be a remake of the 1966 hit "Nevada Smith". This movie starred Steve McQueen who was out to get revenge after some evil people murdered his parents.
Once Nevada Smith is over with, Schorr left the door open for a poker film since she said, "And yes, I would be interesting in a poker movie." Of course the first order of business is making more hits so this poker film may get put on the back burner for a little while.