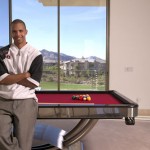 Phil Ivey was in the news when he decided to put his Las Vegas mansion back on the market for $2 million. The poker pro's house featured a whopping 6 bathrooms, 4 bedrooms, 3 fire places, a pool to swim in, along with a hot tub. The appeal didn't stop there though since the house also has beautiful mountain views accompanied by golf courses all around the property.
But here really isn't anything special about Ivey's house when you are comparing it to Doyle Brunson's – even though Ivey's house does makes mine look like a hotel room. The main attraction in Brunson's house is the over-the-top landscaped pool surrounded by rocks big enough for him to do flips off of. Take a look for yourself right here, but try not to get jealous.
It seems like everything is centered on pools with the poker players because David Benyamine is another one who can show off his pool. As his wife pointed out, the pool seems to have a Pirates of the Caribbean theme. And you can't be a poker pro without having an awesome poker room. Check out his poker room here. It is cozy with leather chairs joined by a huge wall-mounted TV allowing him to multi-table with ease.
Barry Greenstein's house is yet another over the top home worth checking out. When you walk into the house you're greeted by a super-fancy staircase attached to an awesome balcony. If you stop by for a visit you might find Greenstein greeting you with his little friends in his fish tanks. You can take a look at his house here.