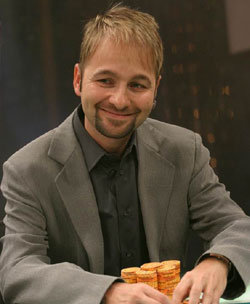 When Phil Ivey overtook Daniel Negreanu as the all-time live poker tournament money winner, I figured it was a mere formality that Ivey would remain here for centuries to come. After all, people make it sound like a foregone conclusion that Ivey will eventually overtake Phil Hellmuth as the all-time bracelet winner in addition to the other accolades he figures to accumulate in the future.
But here's a shocker: Negreanu is putting up a fight, and isn't ready to relinquish the all-time money winner crown just yet. He proved this after jumping Ivey on the list with a $1 million cash in the $100,000 PokerStars Caribbean Advernture High Rollers tourney.
Sure it wasn't the picture-perfect ending that Negreanu would've hoped for since he was defeated in heads-up play by Eugene Katchalov; however, Negreanu fought hard, bested some of the world's top poker players, and scooped a $1 million cash.
Negreanu reflected on his achievement by saying, "Eugene Katchalov is one of the best players in the world, hands down, so losing to him in such a prestigious event is nothing to be embarrassed about, I fought really hard but the cards didn't go my way." He also added, "The million bucks doesn't suck, and I'm proud of the fact that the finish allowed me to retake Phil Ivey as the number one all-time money winner in tournament poker history. I hope and expect to battle Ivey for that distinction for the next 20 years or so."
From a personality standpoint, Negreanu isn't my favorite poker player in the world. However, I do have respect for him in the way that he hasn't given up on improving unlike other pros who sit back on endorsement deals and other business ventures. Kid Poker is serious about remaining one of the best players for years to come, and I think he'll remain near the top.