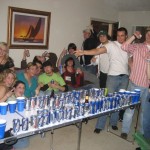 It seems as though some guys never grow out of their days of chasing tail and getting wasted… Doyle Brunson is definitely one of those guys. You have to give it to the man: at age 76 he is still kickin it like a stud by hosting his third annual Doyle Brunson Beer Pong Invitational in Las Vegas.
The Beer Pong Invitational was fittingly held at the Hogs and Heifers bar, and the invitational was just an excuse for big-time poker pros to have a party. Of course, the Texas Dolly was being watched the most along with his teammate Zachary "CrazyZachary" Clark. The team conquered their first two games making it all the way to the quarterfinals.
Brunson either handles his alcohol well or he wasn't drinking at all because an intoxicated Clark got their team disqualified after sipping on a beer off the table that wasn't meant for him.
As if that wasn't awkward enough, the mis-drank beer wasn't even the lowest moment of the event. The title of "Most Embarrassing Moment" belongs to a former multi-table champ known as Shawn Deeb. I know what you're thinking: he hasn't played hardly over the past year so what is he doing at this shindig?
Well it looks like he has taken the past year off to develop his skills of embarrassing himself. He was almost thrown out of Hogs and Heifers after getting into a scuffle with an official at the tournament. The play in question wasn't even in Deeb's game so it was foolish of him to get involved in the first place.
When it came down to the end, Leo Murphy and Tony Dunst were successful in stifling their intoxication so that they could be named champions of the 32-team tournament. Their last opponents were Amanda Baker and Shaun Patrick Green.