The people who failed to play by the rules are under investigation
It has now been reported that the "Poker Black Friday" is in full swing. On the 15th of April it was widely reported that owners of some of the major companies were facing fraud charges. The companies in question included Poker Stars, Full Tilt Poker, Absolute Poker and Ultimate Bet. Sometimes poker sucks. Bank fraud was one of the main charges but they were also held on account of money laundering. More grandly, they were accused of crimes against the Unlawful Internet Gambling Enforcement Act or UIGEA. This is worrying news for the industry but the competitors will be pleased to see that "another one bites the dust".Dramatic scenes in the world of online poker
The American market has stopped taking on the companies which have been indicted for fraud. Perhaps this is a cautionary measure but it means that the industry has to take note of the way that they deal with the legislation at hand. There are strong indicators on how the market might shift depending on the outcomes in the court cases. Often the industry tries to go back into a cautious mode when they feel that there has been one of the good and great who have been busted by the FBI. The news will be a body blow to the owners of the company as well as the players that have so much trust invested in the process.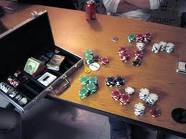 The financial implications of the FBI investigation
The law is likely to be very harsh on the executives of the poker houses which have broken the rules. It is estimated that the executives of the companies in question are likely to face up to 35 years in prison. The fines can go right up to $3 billion. To say that the industry is in trouble is an understatement. Perhaps the companies will try to mitigate some of the penalties that are likely to be imposed by the state. The important thing is to note that this is not reflective of the entire industry but rather a few bad apples that are spoiling everything for everyone.
The implications on the industry as a whole
The events that have touched the industry in such a personal way are likely to have ramifications for an industry that is already viewed with suspicion by many states. The executives were ultimately very careless with the way that they handled the game. Consequently they are going to pay a rather hefty price for failing to follow the rules. Any sympathy for them is largely misplaced. Everyone knows that the poker or casino industry is highly regulated and the IRS is practically breathing down the necks of most companies.
Other poker houses need to be wary
This is a lesson for all the poker houses that have been playing fast and loose with the system. There are important lessons for individual players. Do not go for tournaments which are run by shady houses. The reputations of the specific companies involved will take years to rebuild. In fact they might never regain the reputation they once had within the industry. That would be a great shame for the industry as a whole.