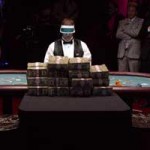 When you've made it to the heads-up part of a poker tournament, it's safe to say you're pretty awesome. Go ahead, give yourself a pat on the back, and keep in mind that I said 'poker tournament' and not a sit and go.
One common situation you might be in though is having a small stack during heads-up play. In that situation, you might be thinking you're off on the wrong foot, but things can still be salvaged.
It would seem as though you're walking into the lion's den having a short stack. The other player is going to want to get the heads-up match over with ASAP so there is at least one thing in your favor. Luck will play a big role in heads-up, and no one wants to let the short stack live long enough to get lucky.
For the larger stack to end the match quickly, they will try to put the short stack all-in as much as possible. So as long as the blinds aren't eating away at one's stack, there's nothing making the short-stacked person play this all-in game. And there is no reason why you need to call the larger stack's raises just because you have a smaller stack.
The goal is to make the large stack impatient. If you can manage to stay in the hand until the big stack gets impatient, eventually you will benefit from the big stack calling your every move as soon as they get half-ways decent cards. Of course, this is where the luck comes into play. Don't forget the possibility of being beat by something like K-7 when you're holding A-Q.