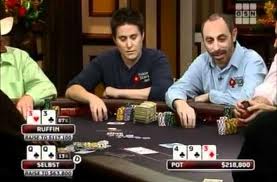 As good as High Stakes Poker has been in the past, Season 7 is absolutely horrible! The cast sucks, the rich amateurs are painful to watch, and Norm MacDonald is not only the worst announcer in poker history, but quite possibly the worst announcer ever!
Honestly, what made the HSP producers think that this could all work for the seventh season? It's like they're playing chicken with the show by trying to see how many things they can tweak before the show goes completely off a cliff.
Okay, let's start with the number one problem – MacDonald. I think that the producers thought since they got away with replacing A.J. Benza with Kara Scott that they would be equaling successful in substituting MacDonald for Gabe Kaplan. Wrong! MacDonald's voice sounds like a grizzly old man who just woke up from a three-day drinking binge, plus his humor is too dry for the show. You could easily mistake his jokes for confusion and a lack of knowledge about the game.
The next biggest problem is the amateurs. Phil Ruffin (Treasure Island casino owner) and Robert Croak (Silly Bandz inventor) are two of the worst players I've ever seen. Their over-bets and puzzling folds has every break-even low limits grinder in the world wishing they had a bankroll big enough to play against these fish. And these are the replacements for all of the Full Tilt players who couldn't play because PokerStars now sponsors HSP. I miss Phil Ivey, Tom Dwan, Patrik Antonius, and all of the people who actually knew how to play high stakes poker.
Sure Doyle Brunson and Barry Greenstein are both solid players, but even some of the pros aren't up to par with the past seasons like Vanessa Selbst. Selbst, who's had plenty of success as a live tournament player, clearly isn't 100% on her bet sizing and isolating skills, which shows her poor cash game skills.
In any case, I'm sure that I'll keep watching…..just not happily.