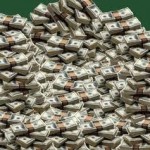 I'm simply amazed whenever I hear stories about "The Big Game" at the Bellagio or the nosebleed tables at Full Tilt Poker. After all, you have to admit that there's tremendous pressure involved when playing for pots worth $500,000 or more. But I'm blown away after hearing about the recent cash game action that took place during the APT Macau event. In fact, the money on the table in these games makes the FT and Bellagio games look like low stakes affairs.
Apparently some Chinese businessmen showed up to Macau and started playing games involving blinds of $5,000/$10,000. This dwarfs the $500/$1,000 PLO stakes that the high stakes gurus at Full Tilt always play! With so much money on the table, and so few knowledgeable players handling this money, the sharks eventually jumped into the water as Phil Ivey, John Juanda, Tom Dwan and Chau Giang joined the table.
As you can imagine, these top pros did quite well against the defenseless, but filthy rich businessmen. According to one account, Dwan was down over $2.5 million only to battle back to a profit of $7.9 million at the end of a 15-hour session! Phil Ivey was also rumored to have done quite well, although no official word on how much money he made.
Perhaps the most notable thing that happened during the cash games was the giant hand that Chau Giang took down. Giang made over $2.58 million after hitting a full house (aces over jacks) to beat an unidentified Chinese guy with a weaker full house (jacks over aces).
With so many rich fish hitting the tables in Macau, it wouldn't be surprising to see some of the top pros move to this region for a while. Rumor has it that Dwan has already commented on moving to Macau.