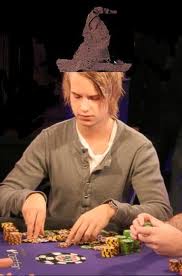 One of the biggest online poker stories over the past couple of years has been the secret identity of "Isildur1," the phenomenon who stormed onto the high stakes poker tables in 2009. Until now, all we knew about Isildur1 was that he was a young Swedish player.
Many have speculated that Isildur1 is Viktor Blom – a young Swedish player who also happens to be really good at poker. However, some people moved away from the notion that Blom was the mystery player after he told the media he wasn't the guy everybody was looking for. Well it turns out that Blom is a huge liar since his true identity was revealed in a live heads-up match with Bertrand "Elky" Grospellier.
The live heads-up match took place during the PokerStars Caribbean Adventure where Blom and Grospellier played $25/$50 heads-up, which ended up being $50/$100, after the identity unveiling. Both players staked themselves with $10,000, and another $20,000 was waiting in reserve. After both players got into a huge pot, Grospellier had to go into his reserve money; Blom ended up winning the hand with A-K after an ace landed on the turn and Grospellier's pocket jacks didn't improve.
After revealing his identity, Blom told media members, "I think a lot of people have known for a long time who I really am, so it doesn't make a big difference to me. But when I signed for PokerStars I felt like it was the right time to reveal my identity."
I'm personally glad that Blom has finally revealed that he is indeed Isildur1. Now we don't have to hear any more of the constant speculation of who Isildur1 is. In fact, things were getting pretty crazy towards the end as Justin Bonomo actually Tweeted that he thought Phil Hellmuth was Isildur1. Please…….Hellmuth rubbing elbows with the best high stakes cash game players. I don't think so!