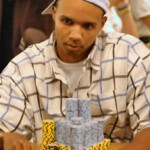 Phil Ivey seems to be at the top of the 2010 Poker Hall of Fame list heading into the final vote. Ivey has been more successful than of the other players, and is even said to be the greatest poker player on the globe. His major accomplishments are:
– An L.A. Poker Classic title in 2008
– 8 WSOP bracelets (includes another one just this year)
– A Monte Carlo Millions title in 2004
– 9 WPT final tables
– Number 1 on live tournament winnings list with $13.5 million
– Perhaps the best high stakes poker player
– Single reason why the so-called best players in the world were able to defeat billionaire Andy Beal and his mountains of cash
Just by looking at his accomplishments and popularity, you'd think there would be no question about having Ivey in the Poke Hall of Fame this year. But although he is amazing and definitely worthy, Phil Ivey is accused of not being old enough to be voted in.
The person getting his panties in a bunch about the 34 year-old Ivey is none other than Doyle Brunson; Daniel Negreanu (36 years old) has also been dubbed "too young" by Brunson, although Ivey and Negreanu aren't on the same level of skill.
Of course Grandpa Brunson threw a couple of his favorite names out like Barry Greenstein (55) and Erik Seidel (50) as deserving of the Poker HOF. He said, "I gave almost all of my votes to Erik. Most people don't remember his cash game play, but he was in all of the games in his early career. He meets all the requirements, and his exemplary conduct deserves a special accolade. He reminds me of Chip Reese."
Seidel may be entitled to be in the Poker HOF, but Ivey is just as entitled and shouldn't be pushed aside simply because of his age.