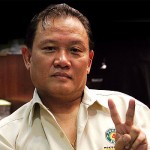 When you're talking about poker legends like Billy Baxter and Phil Ivey, Men "The Master" Nguyen usually never comes to mind. I mean, Men Nguyen has been labeled a cheater in the past few years after being accused of cheating in some LA card rooms with players he has mentored. The truth hasn't been uncovered about this issue yet, but even still, there isn't anyone out there who can ignore Nguyen's WSOP success since he now has a 7th bracelet to become equal with Ivey and Baxter.
Men picked up his 7th bracelet in the $10,000 World Championship of Seven Card Stud. It ended with him and Brandon Adams going against each other in a heads-up play. The game went on for a while, but obviously Nguyen was able to play his hands right to win $394,800 along with the 7th bracelet. The second place winner didn't fail completely as Adams was able to take $243,958.
With the big win, Nguyen ties both Ivey and Baxter for sixth place among the all-time bracelet winners. Perhaps even more importantly is that Nguyen moved closer to Phil Hellmuth on the all-time WSOP cashes list. Nguyen has 67 cashes while Hellmuth has 75 cashes to his credit.
Men Nguyen's seventh bracelet wasn't the only good thing going on during the WSOP since Michael Mizrachi happened to be going for his second bracelet of the 2010 WSOP. Unfotunately for Mizrachi, he couldn't pull off the feat as he was busted out of the tournament finishing in sixth place. Don't feel too sorry for him though since he is still riding high on the $1.56 million he won in the Player's Championship.