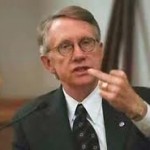 I don't normally like talking about the legal aspects of online poker on my blog because……well, just about every blog and poker news outlet in the world already does so. However, I thought it relevant to point out that online poker legalization is finally dead in the water since Harry Reid officially announced that he's not attaching the poker issue to any bills. I can't say that I'm disappointed either since the bill grew from a blessing to a nightmare in just a few short months.
When Reid jumped on the bandwagon for the bill that Barney Frank created, I was excited because the Senate Majority Leader (Reid) definitely holds some clout in Congress. However, my excitement turned to fright when I learned of all of the provisions to keep foreign operators out of the US for at least one year; in the case of PokerStars and Full Tilt Poker, the ban was for two years.
Clearly this had nothing to do with the rights of American citizens and more to do with Uncle Sam looking for his cut. Even worse is the fact that players would have to wait for land-based casinos such as Harrah's and MGM Grand to get their act together before the legalized poker would take effect.
To be honest, I'm totally glad that the bill is dead and things are going to stay the same. However, there are still plenty of online poker enemies in Congress with Lamar Smith, Dave Camp and Spencer Bachus gaining more power next year. Plus states are trying to regulate poker themselves and keep the games within their boundaries; this would make finding good games even tougher.
Basically, I'm hoping that most areas of the US keep things the way they are.