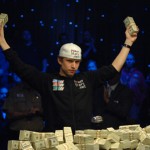 When I first saw the headline that Peter Eastgate was selling his 2008 WSOP Main Event bracelet I thought, "Oh god, not another T.J. Cloutier. Did Eastgate blow through his $9.15 million top prize already?" Thankfully, my negativity was quickly disbanded after reading that Eastgate is merely selling the bracelet as a charitable act for UNICEF. In fact, 100% of the profits that Eastgate makes from the sale of his bracelet are going to help UNICEF.
As if this story isn't interesting enough, noted pro Tony G is supposedly going after the bracelet since he released a statement/taunt saying, "I have decided that I am going to buy Peter Eastgate's WSOP Main Event winner's bracelet. It is currently trading at $16,500 on eBay, and I am going to lead the bidding at $17,500. I don't expect any further bids and, as I know, there are very few people with the heart and courage to challenge a determined Tony G."
So what's does one of the most annoying and loud-mouthed poker players of all-time intend to do with this bracelet? According to Tony, "The plan is to get it adapted into a special collar for my trusted German shepherd, Zasko. The ultimate dog bling, as my gladiator and protector, he deserves to be kitted out in such style."
Can't believe that Tony G would disgrace poker's ultimate prize in this way, but maybe he's still hurting over the fact that the WSOP didn't invite him into the special sit and go they had. Instead, they chose Bertrand Grospellier for the event, which Tony commented on several times.
Whatever the case, his comments have caused the bidding on the bracelet to increase rapidly. The $16,000 list price has ballooned to $41,500 and counting! Maybe Tony G will have to find some new blind for his doggie.