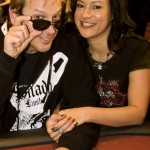 Phil Laak took himself out of the first week of WSOP in order to try and break the poker record for most hours played straight. Phil was attempting to break the record set by Paul Zimmer who played for 74 hours and 20 minutes last year. Laak set his goal to be able to play 80 hours straight, which would beat Zimmer by a landslide.
Astonishingly enough, he was able to destroy his personal goal of 80 hours as he played for 115 hours at the Bellagio in Las Vegas. He began his long journey on June 2nd, and by the morning of June 7th, his mission came to an end after exceeding the previous record by over 40 hours.
Laak commented on his magnificent accomplishment by saying, "I was shooting for 80 hours all along and eventually it came. The obvious next step was to honor the moment by making the most of it. A gambling degenerate by trade, this was a once in a lifetime opportunity to see what my inner vampire was really made of."
The upsetting thing about his accomplishment is the fact that Phil wasn't making any money during his accomplishment. However, he was an honorable hero by raising money for Camp Sunshine; Camp Sunshine is a charitable organization that provides some fun times and support for children with life-threatening illnesses. He was able to raise thousands of dollars for Camp Sunshine after the longest "night" of playing holdem poker ever.
Phil Laak wasn't lacking any support from his friends either since a few came to cheer him on including the following: Mike Matusow, Prahlad Freidman, James Mitchell, Scotty Nguyen, Eric Lindgren, Jean-Robert Bellande, David Wells, Huck Seed, and his girlfriend Jennifer Tilly.