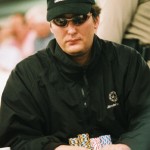 There are a lot of people who think the last few years have been slow for Phil Hellmuth because his whiney and childlike behavior has been turned up recently. Even still, Phil Hellmuth is known in the world of poker for being the all-time leader in WSOP bracelets won, which is a pretty hefty title to be carrying around.
Lately, Phil has turned up the music video vixen inside of him as he's hit rock bottom and started playing opponents like Ludacris and Trey Songz in the latest music video from Ludacris called Sex Room. The video gives a glimpse of every man's fantasy for what will happen when they visit Las Vegas. To sum it up, there are lots of girls and an awesome penthouse suite.
Every guy knows that you're not really going to be partying with lots of women in Las Vegas – unless they're ladies of the street. And the reality is that you're probably going to be sleeping in the same bed with some guy you went to high school with to save money. Needless to say, Ludacris and his crew live the highlife with all the girls and the penthouse leaving me to wonder 'where exactly does a tall nerdy guy like Phil Hellmuth fit into the video?'
When you are about 2 minutes into the video, Hellmuth shows Luda and his buddies what's up. In the scene you'll see Hellmuth giving a massive pot a bear hug after beating the other players. Too bad he wasn't able to get another bracelet for being the only white guy in the video. At least he won: Daniel Negreanu was floored after Katie Perry beat him in the video "Waking up in Vegas."
The suspense will be eating us alive waiting to see if the Poker Brat will be able to pull off another win at the WSOP, or will his last big day be the one he spent kicking it with Ludacris? Like I said… suspense!