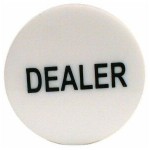 If you don't know that the dealer spot (or button) is the best place on a Texas Hold'em table, then perhaps you need to look at the most basic Hold'em strategy you can find. With that out of the way, it's very important that you maximize your turns in the dealer spot because you will have the chance to see everybody's actions after the flop.
In order to take advantage of the button, you'll have to play extremely aggressive. Now this isn't to say that you should play virtually anything from this position, but you do need to open up the starting hand requirements considerably from the button.
As a general rule, you should be playing any connectors that are at least 7-8, Ax, and K9 because you have the best spot on the table. But keep in mind that these hand ranges can all change based on a multitude of factors such as if the blinds defend their chips at any cost, if the table is mostly tight or aggressive, and the size of your stack.
Out of all these factors, how the blinds defend their chips will be the most important thing when determining your starting hand requirements from the button. If the blinds call just about anything, you might want to stick with better hands such as A-10, K-J, and connectors that are at least JT or higher.
Along with this, you also need to realize that limping is your enemy. If you're not going to raise when entering a hand, then you should be folding. By making a raise, you'll force other limpers out of the pot and collect their bets plus you can steal the blinds from other players. Above all, remember that the dealer spot only comes around every so often so you can't waste a chance.