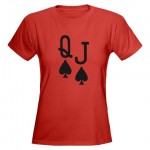 In Texas Hold'em, you'll get hands that force you to think about the next move all of the time. With hands like A-A, K-K, and Q-Q you're probably making large pre-flop raises with the intention of getting 1…maybe 2 callers. With hands like 7-2, you're hopefully folding every time because nothing good can come from this hand. But there are also hands that involve more thought like Q-J before you know out what to do next.
Why Q-J is Tough
Holding any kind of connectors is kind of a good thing. When you have Q-J you can win with it more often compared to the lower connectors, but nothing is ever guaranteed. You are still able to be trumped by big pocket pairs.
Basic Play of Q-J
Q-J isn't the kind of hand that calls for large raises. I find the best thing to do is to call until your hand is formed. Only be aggressive if you are sure that your opponent will buckle to any bet or raise.
Q-J Pre-flop Play
If you're going to play Q-J, it would be best to be sitting in late position. Early position is ok, but you'll have more of an advantage in late position. Simple things to remember is to never raise or re-raise with this hand (unless you're the short stack), avoid using Q-J in short-handed games because it is a drawing hand, and this is not a good heads-up hand.
Playing Q-J Post-flop
After you get to see the flop, you'll be able to know whether or not to go ahead with this hand. You'll always have a 50% chance of getting something whether it's a drawing hand or a pair. You can use implied odds or hands odds to think about playing or not if you have a drawing hand.