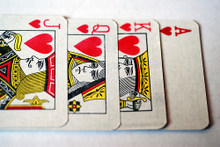 I've definitely played my fair share of bad cards before the flop and my current bankroll reflects that number.  I must admit though that it's tough to fold pocket fives in middle position when there's a chance I could get in for cheap and flop a set.  Even still, I've been trying to improve my game by looking at how to play second rate hands before the flop.
Recently, a situation arose where I was holding Qh-Js in late position and I was forced to make a decision on whether or not to call two limpers before me.  Now Q-J is far from a made hand in Texas Hold'em, and this particular hand doesn't even have flush opportunities.  On the other hand, it at least has the potential to offer you a solid straight opportunity, and I was sitting in late position.  So the dilemma ensued.
The riskier option in this situation was to treat my Q-J like it was a made pair and make a huge pre-flop raise to scare the other players.  I don't need to tell you how dangerous this is since there is likely a pair sitting amongst the two limpers before me.  Also, if one or both of the limpers called me, I'd be left with a drawing hand or hoping that the flop would suck and queen or jack-high would be the best pair available.
My safer option was to join the limping crew and hope that I could form a drawing hand on the board.  While some daring players might've chosen the first option, I went with the second option and it ended up paying me big-time.  One of the limpers flopped a set of 7's (flop was 10-7-K), but tried to slow-play their hand while I hit a straight on the turn (10-7-K-9.  I got the opponent in for almost all of their stack and took down a huge pot as a result of correctly playing this second rate hand.