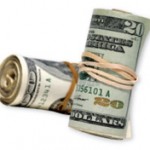 If you're the kind of poker player who is in it for more than just a few minutes after work, then you probably already know that bankroll management is legitimate business. If we didn't have bankroll management, you'd have zero shots at being more than just a 'here and there' micro stakes player.
In most cases though, the majority of players will hold onto the idea that there is a magical law where everyone needs to have a certain amount of big blinds at certain limits. In all honesty, the way you play will definitely affect how your bankroll is managed.
Take a look at the average player's magical bankroll law. More often than not a player will need almost 500 times the big blind to play at a certain limit. So if you're playing $3/$6 No-Limit Hold'em, you'll be safe with a minimum of $3,000 in your bankroll. Most players will get away with having much less, but this is just a realistic estimate.
Assuming you play a style that is loose-aggressive where the norm is seeing wild variance swings, and you lose four $300 pots in one week, you're probably not going to feel comfortable playing at the same level. With 40% of your bankroll gone, I wouldn't blame you for feeling that way either.
On the other hand, if your style of play is tight-aggressive, you only have to worry about the risks in the small amount of hands you actually play. You definitely won't see as much risk when it comes to smaller pots or stealing blinds. This makes it easier to get away with a smaller bankroll in the beginning like 400 big blinds.