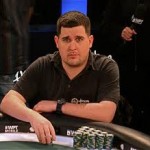 From the looks of things, Scott Montgomery has been living a fairytale life. He recently finished fifth at the 2010 WSOP Main Event and earned $3,088,012, he landed fellow poker star Annette Obrestad as a girlfriend, and is considered one of the top live tournament players in the world. Unfortunately, for every high there is a low, and Montgomery's low came when he was held at knifepoint in a Bellagio bathroom.
Montgomery was held at knife point during a Fiesta al Lago side event being held at the Bellagio Hotel and Casino. Montgomery was taking a bathroom break when a guy came in and held him at knifepoint. Scott made the world aware by sending out a Twitter message that read, "Got mugged today at Bellagio. Black guy pulled a knife on me in the restroom. I gave him the $2K in my wallet and he left."
Scott Montgomery was then disappointed after Bellagio security took 15 minutes to respond to his help call, letting the robber flee the scene. To make the situation worse, security didn't offer Montgomery the chance to view the security tapes for a closer look at the burglar.
This isn't the first robbery to have happened in Vegas, and it won't be the last. The WSOP Main Event champion from 2004, Greg Raymer, defended his money when he fought off two men trying to rob him. NFL free agent receiver Javon Walker was found unconscious by police in an intersection after being beat up and robbed in Sin City. Former playmate and actress Kelly Monaco avoided injury by hiding under a hotel bed after a robber broke into her room.