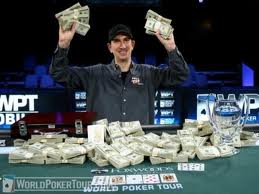 I'd like to start this article on a positive note by talking about Erik Seidel's impressive victory at the Aussie Millions, as well as his amazing start to the New Year. Seidel was one of 20 players who bought into the most expensive poker tournament in history – the $250,000 Super High Roller Event. What's funny about this event is that it was thrown together at the last minute by Aussie Millions officials when they heard how many high rollers were in town.
Some of the people who entered the event included Tom Dwan, Chris Ferguson, Roland de Wolfe, Phil Ivey, James Bord, David Benyamine and Sam Trickett. But perhaps the most mentionable players in the $250k High Roller field included Richard Yong, Wang Qiang and Paul Phua – Chinese businessmen/poker fish with lots of cash to blow as they proved in side cash games at the APT Macau when they lost millions to Dwan and Ivey.
In any case, the end of the tourney came down to Seidel and Trickett, and Trickett was ahead in chips 4:1 after dominating the final table. However, his domination would end along with a run of good cards as everything seemed to go Seidel's way heads-up. Eventually, Seidel completed the seemingly impossible by not only overcoming the chip advantage to take the lead, but also defeating Trickett en route to winning the $2.5 million top prize.
The $250,000 Super High Roller win goes nicely along with Seidel's third place finish in the Aussie Millions $100k High Roller ($618k), fourth place finish in the PCA $25,000 High Roller ($295k) and 5th place finish in a PCA Limit Hold'em tournament ($46k). If Seidel wanted to, he could sit back and take the rest of the year off since he's already earned over $3.34 million in January alone!
But as cool as I think Seidel's incredible month is, I have a problem with him moving up to third place on the all-time live tournament winnings list with $13,877,000. My main problem is that Seidel earned $2.5 million in a tiny tournament that was thrown together at the last minute just because the Aussie Millions brass knew they could get some high rollers involved. Instead of pros competing against each other on a level playing field, the live winnings list has started to become about select, rich players who can actually afford these ridiculous buy-ins.
And I don't mean to single Seidel out either since Daniel Negreanu also benefited from his second place finish in the $25k PCA High Roller, which moved him up to second on the all-time winnings list. In any case, these guys should be allowed to play their rich boy tournaments, just don't count them for the all-time winnings list.