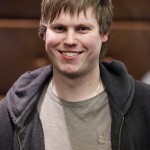 It seems a little crazy when you think about how much Tom Dwan has been able to earn from playing online poker this year. I mean, the guy usually plays for pots that are way bigger than most WSOP buy-ins so you'd think he would have a bracelet by now. But he is still in hopes of getting one, and when I say 'hopes' I mean he is desperate. He has made more than a few side bets claiming he will win one, and if he does, he will make about $12 million from the prop bets!
In Event #11 of the WSOP he was so close to winning, but Simon Watt from New Zealand stood in his way of victory. After both Watt and Dwan went through over 2,500 No-Limit Hold'em players, they finally came to heads-up play. Simon Watt isn't well known leaving a lot of people to assume that he would be the one defeated. But the onlookers didn't know that he had won an Asia Pacific Poker Tour event in his native hometown of Auckland. And Watt was able to win the second major poker tournament of his career as he went on to defeat Dwan in heads-up play.
During this particular heads-up match, the WSOP experienced one of the largest cheering crowds ever seen because of all the people who betted against Dwan. For the people who bet against Dwan like Phil Ivey, it was a good day; for Dwan himself, it could have been better. Dwan's second place prize was $381,885 compared to Watt's $614,248 for taking first place.
Since one-fourth of the WSOP is already over, Tom Dwan will need to pick the events he plays in carefully if he wants to win that $12 million in prop bets. His best will be playing No-Limit Hold'em or Pot-Limit Hold'em events because he is brilliant at those games.