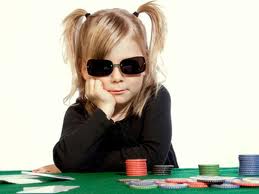 While most online poker players are expected to be 18 or older, we all know that there are plenty of players who don't exactly meet the minimum age requirements. In fact, some of the world's best players such as Annette Obrestad started out as underage players, only to eventually become poker greats. But while this is all fine and dandy, when it becomes public that someone is an underage player, problems start to arise.
The recent controversy at PokerStars is a great example of this after a player by the name of "zeurrr" earned $518,402 in the $5 million 5th Anniversary tournament at Stars. "zeurrr" was part of a historical nine-player chop where "Bdbeatslayer" took home $671,093 and a Lamborghini Gallardo. In the aftermath of the huge cash for zeurrr, it was discovered that this player, who was listed at 19, was actually a 17 year-old named Jimmy Jonker.
According to Holland's second biggest newspaper the Algemeen Dagblad, Jonker will not receive the $518,402 he won after being discovered as an underager. Jonker's dad, Jos Jonker, tried to cover for the boy and say that he won the prize; however, this got the Jonkers nowhere since the account was registered to Jimmy and PokerStars considered him the player.
I don't know what to think about this whole issue. On one side, I agree with players like Tom Dwan who say that an underage player has no advantage over the rest of the field. On the other hand, PokerStars' terms of agreement clearly state that players must be over the age of 18. Plus once something like this goes public or other players start complaining, Stars has to back up their user policy.
And in this case, backing their user policy looks like re-distributing zeurrr's tournament winnings to the rest of the field.