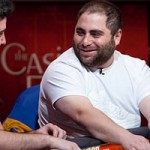 The ever-expanding World Series of Poker Europe recently concluded play with the Main Event final. In all, 346 players paid the hefty ₤10,000 entry fee to create a prize pool of ₤3,460,000 ($5,468,876). Obviously this isn't quite up to par with the WSOP Main Event, but chances are that it's more money than both you and me combined will ever see in our lifetimes.
Anyways, a number of big names took part in this event including Phil Ivey, Roland De Wolfe, Hoyt Corkins, Freddy Deeb, and Barry Greenstein so there was no shortage of stars here. By the end though, the only big name that made it to the final table was Roland De Wolfe; Wolfe was looking to become the first UK player to win the WSOPE Main Event since it began back in 2007.
Unfortunately for Wolfe, he didn't win and busted out in fourth place (£278,945). Fortunately for the UK though, another British player by the name of James Bord stepped in and took the title. Bord outplayed Fabrizio Baldassari in heads-up action to win the tournament along with the £830,401 first place prize.
Now if you haven't heard of Bord, there's good reason for that because he isn't exactly in the elite poker circles with the Iveys and Doyle Brunsons of the world. But he is an experienced player who just caught his first big break in poker.
After winning the tournament, Bord told reporters, "I am a mixed games cash player. For the past four years, I have been playing high-low games. No-limit hold 'em has moved on a lot. I was a pretty awful tournament player."
Bord, who was taught how to play poker by friend Sam Trickett, might consider playing in a few more tournaments after his huge victory.