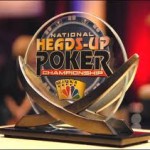 Everyone knows that heads-up play is extremely important in any poker tournament. That being said, here are a just few of many things you can do to improve your chances of winning in the last part of a tournament.
Pocket Pairs are Great Hands
Usually when you're given pocket 2's you're going to fold; in the case of a heads-up match though, you're going to use them to their full advantage. Pocket 2's and higher are your best friend at the table! Knowing perfect strategy still won't take the gamble out as the opponent could one-up you with a better set of pocket pairs. However, you should keep in mind that there is only a 1 in 17 chance or less they will beat your pocket pair.
Think about Raising if you're holding Queen, King, or Ace
In a heads-up match, it's a well known fact that blinds are a major consideration. When it comes down to it, folding or limping into hand is going to kill you. So a good way to avoid death from blinds is to raise with Queens, Kings, and of course Aces. No matter what your kicker is, pairing an ace, king, or queen should give you the win.
Suited Connectors aren't Suitable
You can play suited connectors in a lot of cases when you're in multi-way pots. After all, there will be enough money in the pot to where you can get good pot and/or implied odds. However, playing a hand just because it's suited connectors is a bad idea in heads-up play. You don't have a great chance of hitting a straight or flush, and you'll be giving up too much money to see cards. The only time suited connectors gain value is if they're higher cards like J-Q or better.
Keep in mind that not all suited connectors are created equal, especially in a heads-up match. There isn't much chance for a straight or flush, so don't blow money just to see cards