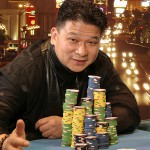 The team from China played their hands well enough to gain the honor of winning the first World Team Poker event in Las Vegas. As if winning the team event wasn't satisfying enough, they also had the privilege of taking home $300,000 for finishing first in the international poker tournament.
The winning team included Maria Ho, Chau Giang , David Chiu, Rich Zhu, Winifred Yu, Derek Cheung, and Johnny Chan. Brazil, USA, England, Vietnam, Greece, Israel, and Australia were the other teams competing in the World Team Poker event.
To make the poker team event more fun to watch, team captains were allowed to give their players advice, and they could even substitute players. Players from all of the teams were placed throughout the Round One tables, and the top two players from each table then traveled to the final table. The United States, England, and Israel had every one of their six players pushed out of the tournament early leaving only five teams at the final table.
The first team to be eliminated from the final table was Vietnam, and the second team was Australia. The last player for Australia was Tony G, who was certain he could win the hand with trips 6's. He found out the truth when Greece drew a full house knocking Tony out of the tourney, as well as Australia.
The next team to be pushed out was Greece leading to a heads-up match between China and Brazil. 10-time WSOP bracelet winner, Johnny Chan, showed he still knows how to play high stakes poker when he drew a full house eliminating Brazil and claiming the title for China.