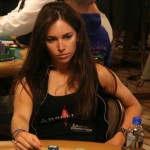 Annie Duke hasn't played much poker in the last year or so. But that didn't stop her from winning one of the world's biggest heads-up poker events in the NBC Heads-up Championship. Major victory number 1 for women on the year.
Up next was Vanessa Selbst who was competing in the Main Event of the NAPT Mohegan Sun. Selbst managed to overcome a field of mostly male counterparts on her way to the win and a $750,000 prize pool. Major victory number 2 for women on the year.
The third big victory for female poker players recently came in the EPT San Remo Main Event. Model/journalist/poker player Liv Boeree battled through a field of 1,239 players on her way to a win in the largest European Poker Tour event in history.
This win was especially eye-catching since Boeree had never really made much of a mark on the poker world in her 5-plus years in the game. In fact, Boeree's best placing came in the European Ladies Championship when she finished in 9th, and she is far better known for her modeling appearances in Maxim and reporting in the WSOP. But that meant nothing in this year's EPT San Remo as she knocked many of Europe's best pros out of the tournament.
All of this has me wondering if this is the year of the woman in poker since they've already picked up 3 major wins by April. Going further, I'm wondering if we'll see quite a few females notching wins in the WSOP. This may be getting ahead of things since women are still greatly outnumbered by male players, but it would be cool to see several female winners in the World Series.