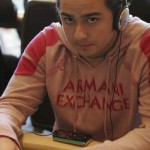 When you ask for advice on how to become a better poker player, the majority of people would tell you to play more competitive players, duh! It is completely obvious that you're supposed to learn way more when you're playing tougher players because you will be studying their moves.
But the majority isn't always right! You are unable to learn anything from the highly skilled players you're now playing with because you don't know what cards are in their hands, and you can't read their minds. When it comes to bettering your game against more challenging players, you're going to have to suck it up and just ask them about their technique after the game. If you don't, you'll burn through money for the obvious fact that you're playing better players. And you're not going to get anywhere by being a less than capable poker player.
But if you know little to nothing going into the game, and you try having a conversation with an experienced poker player during a game, they probably won't give you a second of their time. So you might try becoming acquainted with the good players in live or online play after a game.
Then you need to decide whether they are going to be able to clearly explain why they do the things they do. Some people are better at explaining than others, so it could take a few tries to get the information you're looking for. It surprises some people to find out that a player from $10/$20 No-Limit Hold'em could be better at explaining and giving advice than a great WPT or WSOP player.
When you're talking to someone about poker, bring up some defined moments where you feel you made a mistake. Be clear in explaining the situations you were in when you made the mistakes, and ask what they would have done. Most of the time, people will be happy to give you advice when it makes them look good… think of it as a stroke to their ego.