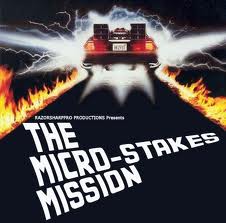 One of the funniest myths that I've heard in poker involves people saying that micro stakes poker can't be beaten. This claim is usually made by players who read generic poker strategy articles that don't pertain to any particular level. They see some advice that was written by a $2/$4 No-Limit Hold'em player, and they try to apply it to $0.10/$0.25 NL Hold'em.
Of course, the problem with this is that these limits are two entirely different games, and if you're expecting a $0.10/$0.25 player to respect your 4X the big blind raise the same way that the $2/$4 player will, you are going to be in for a surprise. And this is why a lot of players think that the micro stakes are so unbeatable. They're using the wrong strategies and tactics to beat limits where the players don't respect raises enough.
The one obvious adjustment that you can make when trying to beat the micro stakes is upping the size of your raises. For example, if you have QQ and want to isolate an opponent preflop, you should make a 6X the big blind raise instead of a 4X BB raise. Assuming the table is really loose, you might even up your raise size to 7X or 8X the BB.
Besides upping raise sizes, you also need to take most micro stakes players' raises at face value. Sure you'll get the occasional micro stakes players who know how to value bet and play a good hand, but for the most part, you have a bunch of people who play their hands face-up. When a straight is on the board and they have it, they're going to bet like they have the straight.
One last thing I'd like to say is that you shouldn't be shocked when a calling station hits their hand after you've given them poor odds to call. For example, if you hold T-T in position, the board reads 6-7-J, and you raise $0.60 into a $1 pot, an opponent with 4-5 would be getting horrible odds to call. But you'd be surprised how many players will make this call, hit a straight, then bet big on the turn. In any case, don't become attached to the hand just because you made all of the right moves beforehand.
In all actuality, the micro stakes are more beatable than any stakes in poker; you just have to apply specific strategy to beat these limits.