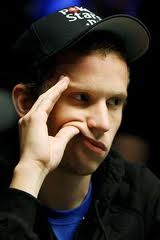 After shocking the poker world by retiring from the game in 2010, when he was seemingly on top of the world after a 2009 WSOP Main Event victory and several big cashes afterward, Peter Eastgate surprised the poker world again by announcing his return. Eastgate doesn't appear to have really lost much either after making a solid run in the 2011 EPT Copenhagen event.
Anyways, there appears to be some extra motivation for Eastgate's return besides simply needing some R+R from the game. He said in an interview that he lost over $1.7 million while betting on the 2010 World Cup. Perhaps Eastgate got caught up in the moment since he actually visited South Africa to hang out during the World Cup…..who knows?
In one excerpt of the interview, Eastgate explained his sports betting problem by saying, "It is slightly in a poker player's DNA to make bets. And there are many of my friends who are doing far more bets than I do. It is a tension passion poker players need to vent,"
He regrets the sports bets now though as he made a bet with some poker friends that he'll owe them $20,000 if he makes any sports wagers worth more than $2k. As you can imagine, this has been enough to pull him out of the ugly world of sports betting (ugly for a guy who loses $1.7 million anyways).
Personally, I've always wondered how guys like Phil Ivey or Eastgate can be comfortable putting so much down on a game that they have no control over. I mean, with poker you at least control a large part of your fate, which certainly isn't the case with a sports game. In sports betting, you make an educated guess, and the teams take care of the rest. Who knows though, maybe I'd get wrapped up in this kind of stuff too if I were a multi-millionaire.