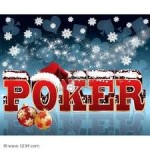 So who's all playing poker on Christmas today? I know that I am…..just have to sneak away from a few family members and play when I get the chance. Sure it's the holiday season and I should be spending it with family members, but hey, I've got money to win!
In my experiences, Christmas is one of the best times to play poker because rooms are filled with fish. This is contrary to what I've read since many people think that only the big-time players are on at these times. However, I have a theory that the big-time players are actually taking the day off to celebrate and get drunk (if so, hopefully I'll see them on later!). On the other hand, casual players finally have a few days off of work and they're looking for something to do. And when you're not working, online poker is a great way to pass the time.
My plans are to play some cash games, and maybe a tournament or two later on tonight. Unfortunately, most poker rooms don't share my Christmas poker enthusiasm because I don't normally find a lot of big tournaments on the 25th. But that's not going to keep me from playing on a day when I've always pulled in profits.
For some reason or another, I find myself more drawn to poker around Christmas time. Sure I play all day anyways, but there's something special about playing on Jesus' birthday. Maybe it goes back to the whole thing about the annoying family members and wanting to get away…..who knows. One thing that I do know though is that I'll be hitting the tables here in about an hour.